LVT/LVP: Luxury Vinyl Plank Flooring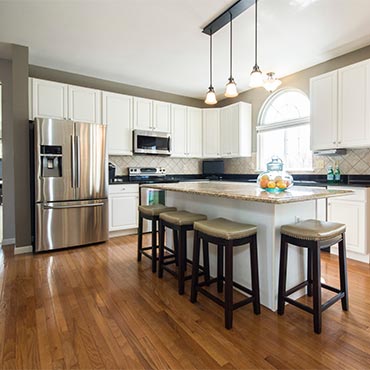 Vinyl plank flooring has an incredibly realistic hardwood look and is exceptionally durable. It is waterproof and has a strong high density fiberboard core. Vinyl plank is much thicker than the typical glue down sheet vinyl.
It is usually 8 mm thick, so it's similar to an engineered hardwood or laminate flooring. Vinyl plank flooring is constructed in layers. The top layer is vinyl, the middle is a high density core board and usually there is an attached back underlayment (e.g. cork) for more cushioning. Like laminate, these floors are clickable so they are easy to install.
Vinyl plank flooring similar in form and look to an engineered hardwood and laminate flooring, but it's much more versatile and resilient. The biggest difference is that vinyl plank flooring is waterproof.
Brand Overview
---

Tarkett was founded over 130 years ago and is now the largest resilient manufacturer in the world with over 28 production centers in more than 100 countries. In North America, Tarkett owns and operates nine manufacturing units that support a distribution network extending across the United States and Canada. Its comprehensive product lines are renowned in the industry for their high quality, diversity and innovation.